Author Spotlight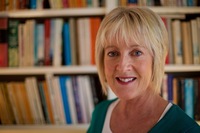 I too love a good book and have a dog!

It's often assumed writers are too busy to read but I read at least two books a week. It helps feed my creative mind. I read a wide number of genres. Here are 2 of my recent favourites.
The Hate U Give by Angie Thomas is sensational. It tells the story of a Starr, a young black girl in LA and her struggle for justice for her friend who was gunned down and killed. It's bright, funny and powerful. As I lay Dying by William Faulkner. An American classic that I re-read recently. It's a powerful story of a dysfunctional family burying their mother. It's a masterclass in writing from different points of view.
I am also the proud owner of a Nova Scotia Duck Tolling Retriever called Brodie. Every morning, we go for a long walk in the beautiful country side around my home. It's a great way to prepare for writing – being inspired by nature clears my mind and makes me feel happy and optimistic about the day ahead.

I wrote my first novel age eight and my second aged fifty eight.
I wrote my first 'novel' at 8. It consisted of handwritten pieces of paper stapled together into a book. It was a story about a deer fawn in the highlands of Scotland and had an unhappy ending (Bambi was a big inspiration!) I won a national short story competition when I was 9 years old and went on to read English Lit at University determined to be a writer. But then 'real life' intervened (marriage, two children, a successful career in Industry and Academia) and I never wrote a word of fiction for the next fifty years. Since semi retiring from work, I have published two novels. An Obstinate Vanity (2016) and Small Change (2018.)

Ordinary people lead extraordinary lives

My novels are mostly about 'ordinary' people. However in my experience, there's no such thing as 'ordinary' - most people have remarkable stories to tell and most families have enough dramatic possibilities for a dozen novels!
The inspiration for my characters starts with me.
All my characters have a bit of me in them. Even the bad guys! Delving into the 'dark corners' of my imagination can feel a bit scary but the character soon takes over and becomes a separate person. It feels a bit like I'm a sourdough starter – giving my characters an initial boost from my inner world, so that they can grow and develop in their own unique and often startling ways.
Thank you to Keddie Hughes and Authoright for an awesome spotlight!
About the author:
Born and raised in Glasgow Keddie Hughes has worked for over thirty years in executive coaching, leadership development, organisation consulting and change management in global organisations such as Vodafone, Ericsson, BP, Mars and British Airways. In 2012 she completed the Faber Academy writing course and later enjoyed writing for eighteen months under the mentorship of poet and author Jill Dawson.

Today Keddie lives in Buckinghamshire where she dedicates as much time as she can to writing. Her first novel, An Obstinate Vanity was published in 2016 (CreateSpace). Small Change by Keddie Hughes (published by Spiffing Covers 10th May in paperback and ebook ) is available to purchase from online retailers including Amazon and to order from all good bookstores.
Forty-two year old Izzy Campbell wants more from life than a husband who is a fanatical Glasgow Rangers football supporter and a borderline alcoholic. She has always put her family's needs first, but with her son turning eighteen she decides it's time things change. Izzy volunteers at the Citizen's Advice Bureau and enrolls for a part time degree in Social Sciences and when she encounters a charismatic journalist, Sean Docherty, who is investigating alleged financial mismanagement at Rangers, she finds herself offering to help. Before she knows it, she is drawn into the excitement of political activism and the arms of an attractive man. Her loyalties are further tested when she discovers her husband's part in the murder of a young fan from Rangers' arch enemy – Celtic. The choices Izzy makes will determine the rest of her life.
Here is the scene when Izzy is preparing for her final evening with her lover Sean. They agreed their affair was going to be short-lived and they would return to their normal lives once their week together was over. The scene captures the battle between Izzy's rational mind telling her to grateful for their time together and her emotional heart wishing it didn't have to end. This struggle between her pragmatic and emotional voices is one, I hope, my readers will recognise and relate to.
Sometimes, during those four days, Izzy caught her reflection in a shop window and challenged herself to confront the unfaithful wife, the shameless adulteress who stared back at her, but she found it hard to muster any shame or regret. Instead, a bubble of happiness would pop inside her. Bridget had agreed to provide an alibi for her each evening, but lying was barely required. Jim was working most nights and Davy was living, more or less permanently, at Cas's. They were like three boats in a harbour that had slipped their moorings, gently drifting out to sea. She comforted herself with the fact there would be time after Sean returned to London to work to bring the three of them back together. So much time, in fact, that she felt the first stirrings of despair.
It was her last evening with Sean. She brushed her hair in short quick tugs, reminding herself that she was not going to be one of those pathetic souls who cried and moped. She would be grown up and gracious in their farewell. Absolutely no tears. After he was gone, she would re-invent herself, be a stronger, better and more capable person because of him. Get a job. Rescue her crumbling family.
She leaned into her bedroom mirror, her freckles seemed more prominent than usual. Sean had spent the last evening trying to count them, kissing each one as he counted. It was a jokey gesture, but it had moved her in a way that had felt frightening. She was in danger of being overwhelmed by him; like a swimmer stepping into the sea, not realising how strong the undertow would be. Well, after tonight, she was heading back to shore, to dry land and the safety of her old life. She should be thankful that she had experienced such a lover, but she didn't feel thankful. Instead, wishful thoughts crowded her mind: forlorn and foolish.